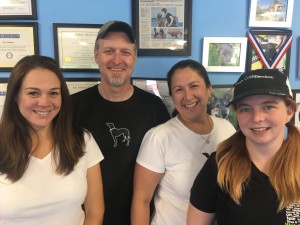 Our methods…
The Grace Dog Training & Behavior team is a member of APDT and all Grace Dog Training & Behavior trainers are either certified CPDT or training and studying for it.
Grace Dog Training & Behavior relies on reward-based techniques to teach and build good behavior. Dogs learn manners while still having fun. Grace Dog Training & Behavior offers group classes, private sessions, phone consultations, workshops, seminars, and, coming soon, training via video conference. We help you address basic manners, impulse control, obedience skills, aggression management, as well as instruction in the sport of dog agility. We can design a training program tailored to your needs to create a safe and effective training environment for you and your dog.
---
Ask the Trainer
Send us a note with your questions on dog training and behavior. Please be sure to give us as much information as possible, including your dog's name, age, breed, diet, specific behavior challenge and anything else you feel is useful, so we can better respond to your questions.