Private In-Home sessions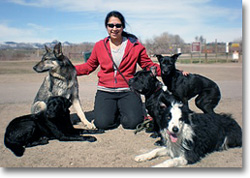 Ana has an extensive background in working with families and their dogs' behavior problems. She is available for private sessions for families with dogs who either aren't ready for group classes or need one-on-one help with more challenging issues not addressed in a traditional class setting.
If your dog is exhibiting fear, resource guarding, aggression towards people, aggression towards other dogs or other animals, separation anxiety, not coming when called or other challenging behaviors, Ana can help.
Read some of our success stories and then tell us about your challenges so we can help you to choose the right training plan for your family. Please give us as much detail as possible to help us determine the best options for you and your pet.
When you come to us for training, you and your dogs will always be treated with great kindness and respect. Training will be fun. We do not believe in using intimidation, pain or threats. We promise you that we will never use harsh corrections, a choke chain, a pinch or a shock collar on your dog, ever.
Thank you for trusting in us and allowing us to serve you in this way.
Click here to register for a private session with Ana.